We have worked hard to offer you our best curved stair lifts.
In some cases, a curved lift is the most appropriate and safe option for your loved ones. Curved lifts give you the freedom of a continuous track that runs from the bottom of the stair case, all the way to the top landing. This means that you don't have to worry about transferring across the landing from one stair lift to the next. We offer only the very best in design and quality of your stair lift and have the experience to back it up! RampNOW has the latest computerized camera equipment! Our one of a kind, C.A.D. assisted software to ensure a truly custom made lift that will look like it belongs on your stair case. With different options on track and upholstery color, as well as powered options, we are sure we can find a solution that will be a great fit for you! We provide services to Chicago and beyond! Call today for your free quote.
Some of our most popular Curved Stair Lifts:
The Handicare Single Rail Curve Stairlift has been developed keeping your highest standards in mind. The Freelift is custom made for your staircase and can be made to go multiple floors. This advanced system has vistually endless features and can be customized using our Photo 3D survey system right in your home before you order. Not only is the small rail one of a kind but you can also choose from a selection of colors or match any custom color you desire! The Handicare Freelift curve seat has vast selection of style choices as well. The Classic, Elegance and Alliance seats also come with color choices to further customize your lift choices! The Freelift also has power and automatic options to help you even more! The options and customization of the Freelift makes it the perfect curve stairlift for any home.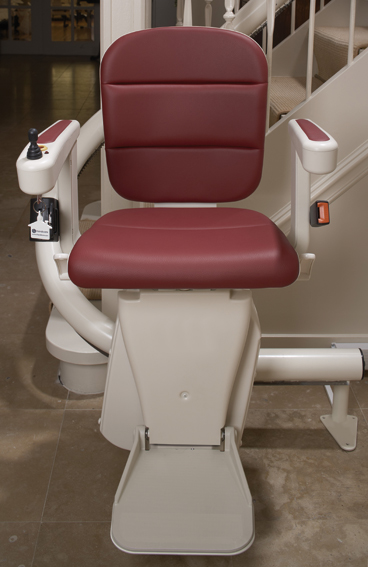 The Helix Curved Stair Lift offers a narrow profile that mounts closer to the wall, with tighter bends. The ride is ultra smooth–and whisper quiet! Manufactured in the United States, every Helix CSL500 is engineered and built to order. Each custom stairlift is unique to the home and stairway it is installed to. This custom design allows the Helix stairlift to have a smaller footprint, quicker install, and outstanding performance. The build and delivery methods also allow installers to work more quickly and efficiently when they arrive at your home. The lift can be installed with minimal disruptions to you. Perfect for a stairway with a 90-degree turn, 180-degree turn, or even a spiral staircase. The Helix can even be built to accommodate multi-story applications. An ergonomically-designed seat features swivel seat and "flip-up"" arms to make entry and exit easier. Custom color and fabric options are available to help make the Helix Curved Stair Lift a tasteful addition to any home.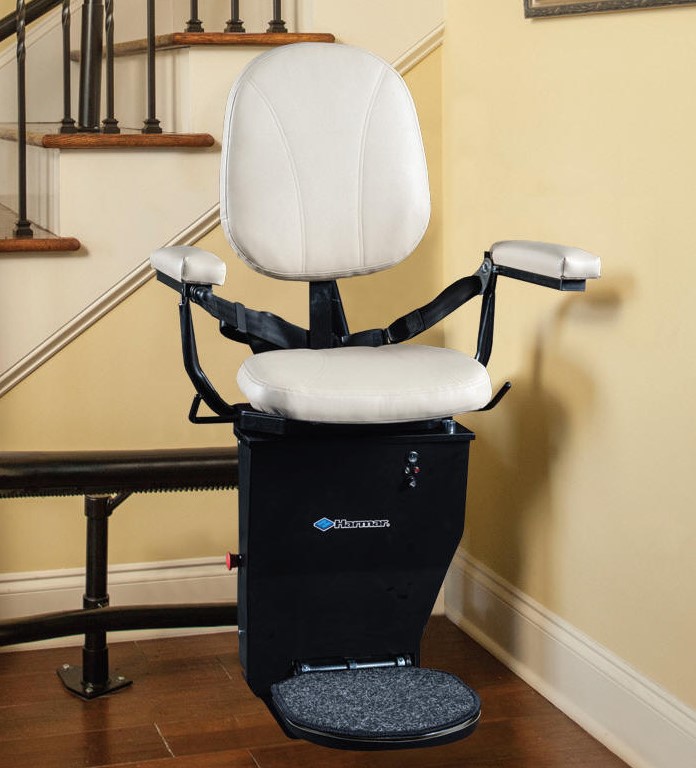 The Handicare Twin Rail curve stairlift is a well established and versatile stair lift system with the tightest track bends available in the industry. It can accommodate a wide range of stair configurations and will hug the edge of your staircase leaving you with more room. The twin rail system provides a safe and smooth ride. It is available in two colors as standard, light grey or gun metal, but can actually be supplied in any color to match your décor. The 2000 comes with two year manufacturer's parts warranty and limited lifetime warranty on the gearbox and motor. Furthermore, all our stairlifts are tested and approved by worldwide independent inspection services. This gives you the assurance that all our products meet the highest standards in terms of quality and safety.