We understand how important it is to have a dependable and reliable stair lift.
Especially when it is for a loved one like a parent, spouse, or relative. That's why we make sure to offer the best stairlifts, at affordable prices, with reliable service and warranty. When it comes to stair lifts, one size does not fit all. That's why we offer several makes and models. Listed below is a summary of different straight stair lifts that we are proud to offer! Call today to schedule your free home consultation or simply fill out the contact form on your right and we can call you!
Some of our most popular Straight Stair Lifts:
Handicare Simplicity Stair Lift ( 950 Stair Lift )
The Simplicity Stairlift by Handicare is our most popular stair chair in our lineup! Our customers LOVE how easy it is to use and how dependable it is. You can safely and securely gain your independence back. The Simplicity Series track offers a continuous charge function meaning that the lift can be parked on any part of the track when it is not in use. This means you do not need to worry about where you leave your lift on the track as the batteries will charge in any position. All stairlifts have safety sensors on the power pack and footplate: these are designed to stop the lift if it meets any obstruction. Once stopped it can only be moved in the opposite direction of the obstruction. We also supply our stairlifts with an easily accessible key switch that allows you to disable the lift and prevent unauthorized use so you do not need to worry about unsupervised children playing with your stairlift. It carries the best warranty on the market: Lifetime on motor and gearbox, two years on parts, and an astounding two years on labor! 
The Pinnacle is the true essence of an affordable and necessary luxury. The slimmest and most light-weight stair lift on the market, it folds to take just 11" of staircase width. Although exceptionally compact, Pinnacle boasts a 350lb (160 kg) capacity with a wide, comfortable seat that swivels at the top landing to aid in safely entering and exiting the lift. Safety sensors prevent the lift from running if the seat is not in the proper position or if something is blocking the stairway or track. Pinnacle's patented helical worm gear drive system requires less energy to operate and can make up to 40 trips should the power go out. The unique drive system does not require any messy greases or lubricants! The folding rail option saves space and lessens trip hazards at bottom of the staircase.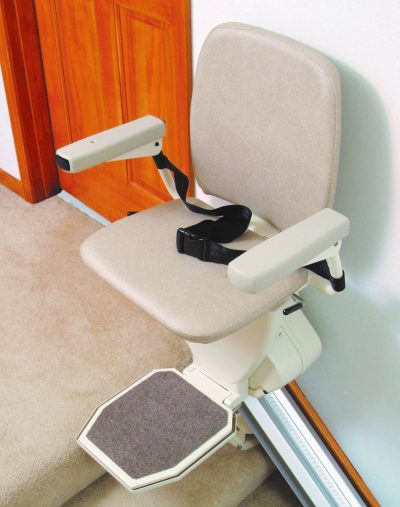 The new & improved version of the original Acorn Stairlift. Acorn has made significant changes to the seat design, functionality, and ease of use. It is specifically built for straight staircases, or staircases that have a landing between two sets of stairs. The Acorn 130 is the perfect choice for anyone with a 2-story home with a straight staircase or a single story home with a basement. This stair lift comes with a on year warranty on labor and a 12 month warranty on parts.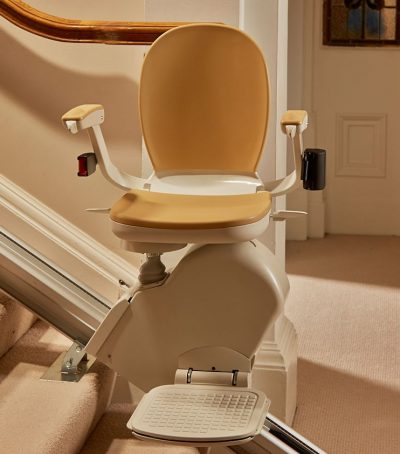 The Sterling 1000 straight stairlift comes with the Smart Seat, optional powered features and the sleekest track in our range. It offers a safe, stylish and reliable way of overcoming the problem of getting up and down stairs. The Sterling 1000 straight stairlift is equipped with the Smart Seat which provides comfort and support and gives the option of upgrading with powered features. In addition to this the anodised aluminum rail offers a stylish solution with a hidden gear rack.